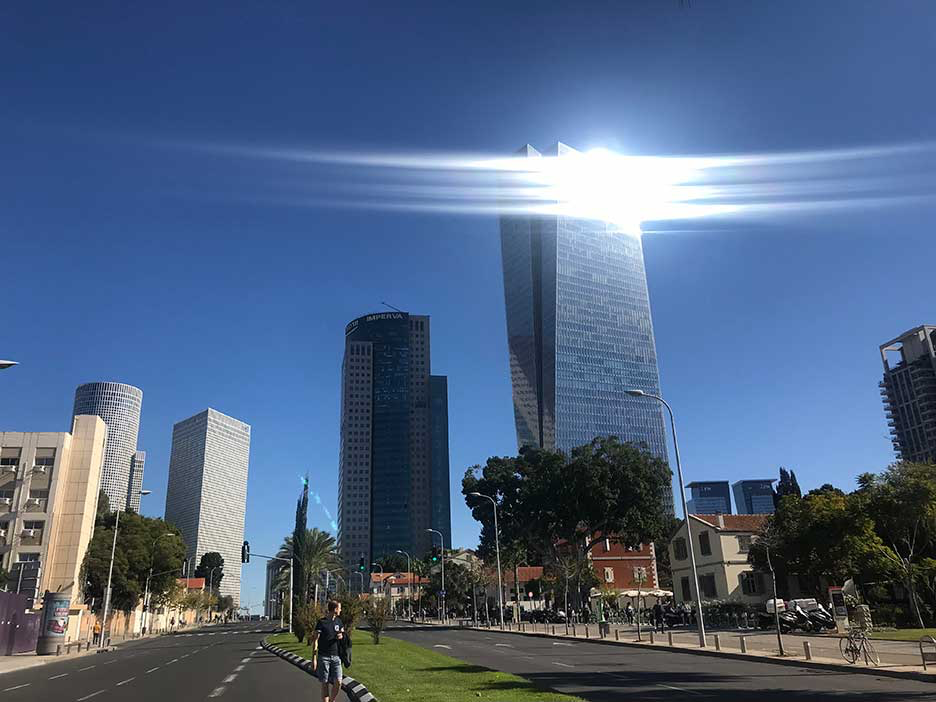 Like most of the world's economies, Israel's has been devastated by COVID-19. At one point, the unemployment rate reached 26%. At the point the pandemic hit, the Israeli economy was in overdrive, with unemployment at the lowest ever recorded. Much of that success was a result of the country's high-tech sector, its reputation as the 'Start-Up Nation'. In the first three months of 2020, $2.7 billion was invested in Israeli start-ups — And, over 350 multinational companies had invested in R&D centers here. Now, with Israel physically cut-off from its investors and COVID-19 still raging in much of the world, will Israel be able to maintain its place in the world's economy as the 'Start-Up Nation'?
To answer that question, I set out on a virtual journey to talk to those who might have answers. I spoke with the leaders of four of the largest and most important Israeli venture funds, the CEO of LeumiTech (a bank within Bank Leumi dedicated to the tech industry), one of the most influential start-up advisors in the country, and the head of the Intel MentorProgram.
These experts agreed on many things and disagreed on others, but before I share what each had to say, a few general impressions from these conversations …
By their nature, these individuals are optimists. They all work with companies at the cutting edge of technology, including a variety of companies that have either directly or indirectly benefited from the circumstances surrounding the pandemic.
While all of them recognize the challenges of the hour, they are able to articulate the opportunities. One theme that repeated itself in my conversations was that various trends expected to take five to ten years to mature — whether in telemedicine, remote learning, or retail — have boomed in three months. Companies agile enough to take advantage of the rapidly changing environment are doing well, but those unable to pivot quickly enough inevitably fall behind.
Everyone agreed that companies need to be more careful with their burn rates and that while marginal companies will find it harder to raise funds, good companies should have no difficulty accessing capital.
The first person with whom I spoke was Hillel Fuld, an advisor to dozens of start-ups. Fuld's outlook is generally positive, and he seems to see greatness in many of those he meets. He views the current crisis as a potential opportunity for the Israeli firms that offer innovative products.
"In the grand scheme of things, and if I am trying to take an optimistic outlook, the pandemic has actually brought a positive impact on the tech world specifically, and the business sector as a whole. It might take some time to recognize this. Still, corona [virus] has enabled us to filter out the garbage, the bloated valuations, and the companies that perhaps didn't deserve to get funded in the first place, enabling us to focus on real top-tier innovation," Fuld explained.
Yifat Oron is CEO of LeumiTech, part of Bank Leumi, Israel's second-largest back. Yifat is a powerhouse. She is always a fund of knowledge on the Israeli tech industry specifically, and the tech world in general. In the course of our conversation, she reflected on the amount of global investment funds that had been available before the crisis. She pegged it at over half- a-trillion dollars and stated that investors worldwide had been demanding growth at any cost. Oron described how initial awareness of how serious COVID would become began with a concern the Chinese supply chain, upon which so many companies relied, was too fragile to depend on.
According to Oron, it was only when the disease began to hit the United States with unexpected severity that Israeli business executives realized the extent of the crisis. All investments were then frozen, as investors tried to understand the scope of the crisis and whether the companies in their portfolios could survive. Soon after, a surprising thing happened: the equity markets remained strong, and many Israeli companies such as Wix, whose software allowed small companies to quickly build websites, saw their valuation soar. During this pandemic period, some Israeli firms were able to receive new funding, and two were purchase by multinationals — the best-known being Moovit, which was acquired by Intel.
Oron continued, "Forward-looking, I anticipate several key structural changes, at least in the short term. The pace of entrepreneurship and founding of new companies will be elevated as happens commonly during economic crises. Not only is the pace accelerating, but such companies founded during crisis prove to be more capital-efficient and sometimes more resilient than companies established in times of prosperity. In addition, local Israeli funds (those with General Partners located in Israel) will grow their share of the investment pie in the overall investments into Israeli technology companies. Entrepreneurs will have a better chance of partnering with investors in their 'back-yard' compared to the cross-border transactions, which accounted so far for over 85%." Oron added that specific investment sectors will gain increased interest compared to the period before the pandemic, including digital health, biotech, digitalization products, collaboration tools, and Cyber.
Next I talked with Jonathan Medved, founder and CEO of OurCrowd, which raised over $1 billion and has invested in 170 companies. Medved compared the current situation to A Tale of Two Cities (i.e., as some companies flourish, others falter). He spoke about companies developing products relevant to the fight against COVID-19, such as the breadth analyzer created by Professor Gabby Sarusi of Ben Gurion University. This device can detect COVID-19 in one minute. Some companies are well-suited to prosper from what Medved terms the 'new normal,' whether they are in distance learning, cybersecurity, or like one of their portfolio companies, Trellis AI, for example, which uses AI to ensure the integrity of the supply chain under challenging circumstances.
"COVID-19 has brought clarity to signal to noise – If a company is growing now, that is interesting, it is an inflection point," Medved said. He believes, "Digital transformation will affect Israel positively." Medved added that "OurCrowd is closing more investments online." According to Medved, "OurCrowd's webinars used to have 50-100 participants. Now, we have thousands." OurCrowd has just announced a Pandemic Innovation Fund and plans to raise $100 million for investment in urgent technological solutions for medical, business, educational, and social needs triggered by global pandemics and other health emergencies.
I next spoke to Tzahi Weisfeld, General Manager of Intel Ignite, Intel's start-up mentorship program. Weisfeld said that the current group was the first cohort that has been done almost entirely remotely. Weisfeld pointed to several positives related to the current situation, including the fact that, for the first time, all the companies were keenly aware of their burn rate and financial position. In addition, he found a higher degree of participation, especially among the always-available mentors.
In looking at the long-term effects of COVID-19 on the economy, Weisfeld observed that the location of offices – which previously had been such an essential draw for high-end talent — will no longer be as important, since the office concept itself will not be as important. He also expressed concern about corporate culture, noting that working remotely was fine for established companies such as Google, Facebook or Intel. However, start-ups would have a hard time establishing a corporate culture if most employees work from home.
Dr. Yair Schindel is Managing Partner at health-focused VC aMoon, which has raised $1.2 billion and has invested in 32 health tech companies. Schindel spoke about the rapid transformation COVID-19 had brought to the health care industry. "Until now, 99% of our healthcare is reactive," he said. "We currently have 20 years of digital history, DNA, and the ability to receive real-time information from today's wearables, which can transform medicine. We thought that transformation would take ten years, but COVID-19 accelerated that dramatically. Both in terms of regulation and the state of the mind of the patients. They do not want to go to the doctor's office and prefer to receive care at home. Israel is uniquely positioned to take advantage of this new norm in ways that will accelerate the growth of our companies in this field. They can become a potent engine of growth for the Israeli economy."
According to Schindel, aMoon has several companies that have developed products directly related to Covid-19. He cited Vocalis Health, which uses AI to detect subtle changes in an individual's voice that can indicate a presence of COVID-19. The voice test is much more accurate than checking temperature and works with asymptomatic patients. Most intriguing, the test can work remotely, so a worker can be tested before he or she comes into the workplace. Shindel said the crises had negatively affected some companies, as a result of clinical trials having necessarily been delayed. He hopes that these delays are only temporary.
Jerusalem Venture Partners (JVP), which has raised $1.2 billion, is led by Chairman Erel Margalit. He was, in some ways, the most optimistic of the group. He said, "We have built high-tech industries in time of crisis. We had 2 intifadas and two wars in Lebanon. Israelis know how to make business in times of crisis. We are working with that part of the economy that will lead the country out of the crisis and show the way. We will be showing the world how to remain international and do it safely," Margalit said. He spoke about the new environment where a company's success would be determined not merely by how strong it was but also how adaptable it is. 
According to Margalit, some sectors of Israel's high-tech industries are thriving, especially those related to cybersecurity. One of their portfolio companies, Cyberfish, reported that there had been a 450% increase in Phishing attacks during the COVID-19 crisis. JVC has continued to invest during the crisis to the tune of $200 million in 23 companies.
Looking to the future, Margalit said that he plans to invest more aggressively in FoodTech because "the world needs alternative food that is both tasty and nutritious." He said that companies also need to develop additional products for healthcare emergencies. "Israeli companies have been very good at imaging and AI, now is the time to leverage that into new products in healthcare," he added.
My final conversation was with Chemi Peres, Chairman of the Peres Center for Peace and Innovation, and Co-Founder, Pitango Venture Capital.
Peres largely took the long view, drawing no doubt on the experiences of his late father, Shimon Peres. "Israel is the only country that [always] built with innovation. Everything we did [was] with innovation." Peres is bullish on the current state of the Israeli high-tech sector. "The early-stage companies are working towards the new normal [and] many of them have raised a lot of money. The flattening of the world caused by the lack of travel and the digitization of work is favorable to Israeli companies," he explained. "As companies scale out, there will be advantages to doing it in Israel. No longer will there be an advantage in moving to New York."
Wearing his hat as the Chairman of the Peres Center he noted, "At the Peres Center, we represent 45 of the leading start-ups in Israel." Peres went on "Out of these start-ups, we are proud of the fact that many shifted their technological capabilities for the sake of fighting COVID-19 crisis."
Peres talked about what we, as a society, have learned. "We are much more fragile than we believed, and we must be ready for additional crisis caused by climate change or cyber-attacks," he said. Peres believes we will need more robots, so the economy can continue to function if humans need to remain at home. He agreed with the others that many changes that might have once taken a decade to emerge, have instead been realized in mere months. Peres summed up our current condition uniquely, "We lost the near and here, but gained the far and far." Meaning that while our current state may be bad, we have exhilarated the arrival of a better future.
So here we stand, still in the midst of a worldwide crisis whose endpoint remains unknown. Since I began my interviews, the number of daily COVID-19 cases has tripled here in Israel. While a great deal can be gleaned from my conversations with these leaders, the future can always surprise us, turning our dreams and plans upside down.