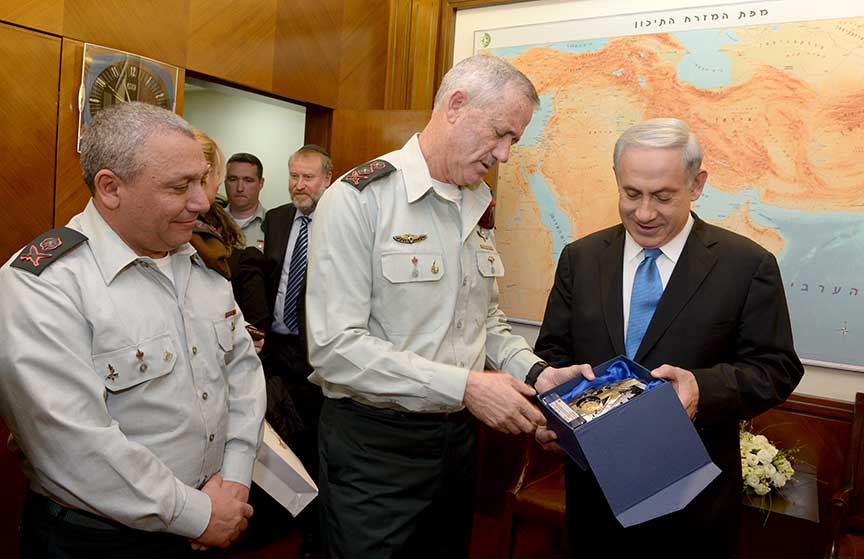 The Israeli political system remains paralyzed. On Saturday night, tens of thousands rallied in Tel Aviv's Rabin Square to mark the 24th year since his assassination, and to hear MK Binyamin "Benny" Gantz (who currently holds the mandate to form the government) address the country. Despite a feeling by many that Gantz may be the natural successor to Yitzchak Rabin, it has been six weeks since the second election within a year and there is no sign a coalition will be formed. Yet, there are increasing signals that Prime Minister Benjamin Netanyahu is doing all he can to bring about a third election.
In the meantime, Israel continues to be run by a transitional government with limited powers, and a parliament that cannot enact any laws, except in cases of emergency. Some have begun to say (only partly in jest) that perhaps it's better this way — after all, a transitional government can do only limited damage. For the time being, some of the municipalities are using this period to take actions they may have feared to enact when the national government was fully functional. For example, the Tel Aviv municipality announced it would operate buses on Saturdays bringing people from the suburbs into the city, in an attempt to convince more people that cars are not essential in Tel Aviv.
Interestingly, the economy also seems to be unaffected by Israel's political predicament. Investment in startups reached near-record levels during the third quarter of 2019. A total of $2.24 billion in venture capital funds were raised, making Q3 2019 the best quarter since 2013. Even so, there are times when the Israeli startup world constitutes a mixed blessing.
The news just this past week was dominated by the lawsuit Facebook filed against Israeli cyber intelligence company NSO, claiming it illegally used the company's WhatsApp program to break into phones and spy on individuals. NSO had previously been in the news when claims were made that NSO software allowed Saudis to track dissident reporter Jamal Ahmad Khashoggi, whom the Saudis subsequently murdered. NSO denies those allegations and claims its software is only used to fight terrorism and has gone so far as to issue a Human Rights Policy, which states the company is aligned with UN Guiding Principles on Business and Human Rights. What is clear is that NSO had developed powerful cyber weapons, and like all weapons, it is very difficult to control how they are used.
A significant portion of the new investments in Israeli companies are taking place in the area of cybersecurity; an arena in which Israeli companies excel, largely due to the army. However, the world of cybersecurity is, in fact, one large tax on the productivity computers have given us. For all of the advantages of efficiency and scale that computers provide, a significant portion of money needs to be spent to defend those systems against bad actors. The role that computers play in our lives makes us vulnerable, thus we are forced to spend more and more money securing these vital systems.
While Cyber and other defense-related fields make up a significant portion of investment in Israel's high-tech sector, there are many initiatives — particularly in agricultural/food-related fields, where Israeli startups are beginning to make an important difference. In order to promote the establishment of such companies and nurture them, Omri Boral, co-founded Techforgood. According to Boral, "Technology is a tool and can be used for many different goals. It can dramatically scale the effect of solutions and innovations. We are thrilled to be seeing such huge growth in the number and quality of tech-solutions that are positively impacting the world."
Among the companies supported by Techforgood are Kands, a company that provides smart city wastewater management solutions and Clarifruit which uses smart sensors to notify farmers when the fruit is ready to be picked. Salicrop is another really interesting company, a joint Israeli-Indian venture that developed a means to enable crops to successfully grow using water with higher salt content. With global warming causing rising sea levels, Salicrop's solution may be vital in allowing a vast number of farmers worldwide to continue growing crops, despite adverse conditions.
Compelling Israeli companies working to make an impact are not limited to those supported by Techforgood. SeeTree.ai combines artificial intelligence and drone technology to analyze the health of farmers' trees and recommend care and treatment actions that should be taken, Barak Hachamov, Chairman of SeeTree told me that "among the many challenges humanity faces, the ability to preserve our trees is something we can handle using modern technology. There is no reason that crops should be suffering and in distress when we have cutting edge innovation, such as drone technology and artificial intelligence, to give growers and farmers visibility into the health of their trees and to treat them accordingly."
I'll highlight one last company using technology in a very intriguing way. The American-Israeli company called Climacell has tackled a problem dealt with by every individual — i.e., what to do when the weatherman says there is a 60% chance of rain or snow in one's general area. For the individual, the extent of the problem likely comes down to whether or not one should carry an umbrella. However, for a farmer, a roofer, or an airline scheduler, an ambiguous weather forecast is far more problematic.
Part of the challenge in providing more definitive forecasts is the limited local data traditionally available to forecasters, based upon which their predictions are modeled. Climacell came up with a unique solution for that problem. It turns out that the signals transmitted by cell phone companies are affected by the weather. Climacell has developed a method to translate cell phone transmission data into current weather data in hundreds of thousands of locations. Using their weather algorithms, Climacell then takes that location data to provide accurate weather forecasting — down to the precise area of a city block. Farmers can now accurately know if they need to irrigate their crops, airports can be armed with the information they need to decide whether they will need to de-ice planes, and roofers can receive a warning on whether they will lose a day of work.
Israel is at the forefront of many different technology sectors, all of which can be used for both good, and for bad. While Cyber and FinTech, as well as mobility, still make up the largest areas of investment in Israel in the last two years, a growing number of investors have been investing in areas that can have a positive impact.
Israel may face a third election in the space of a year, at this point many Israelis shrug their shoulders and do their best to ignore the political stalemate that continues to grip the country.