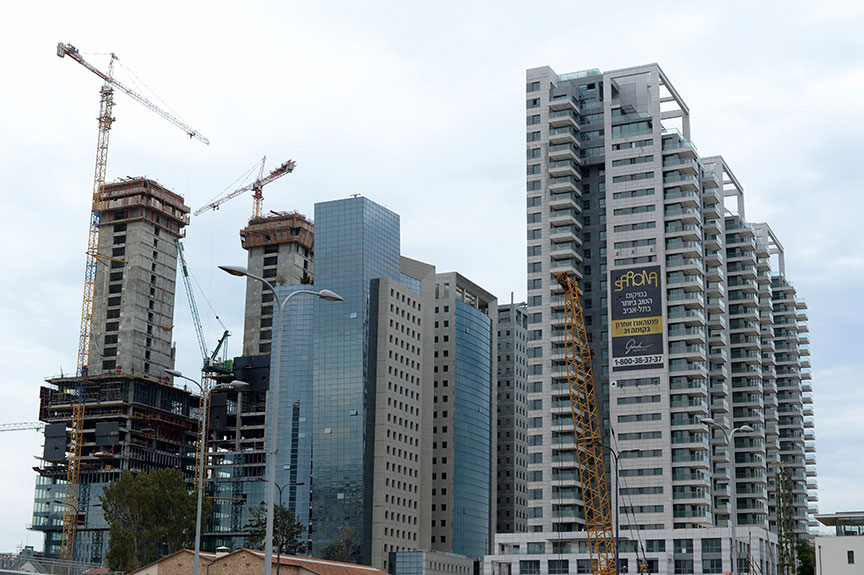 The latest housing statistics are in. Overall, the price of four-room (three bedroom) apartments in the country has been holding steady. During the last year, the price of four room apartments has gone up by 0.8%, and went up by 0.1% in the previous quarter. Although prices are predominantly holding steady, there are significant disparities between different parts of the country. For instance, in Jerusalem, prices have risen by 5% and in K'far Saba by 6%. While in the cities of the South (Ashdod, Ashkelon, and Beersheva) prices have dropped by 1%.
The most surprising number is the 8% drop in the price of apartments in Tel Aviv. At second glance, no one should be surprised. Tel Aviv apartments are by far the most expensive in the country — with the average 4-room apartment in Tel Aviv being sold for NIS 2.84 million; compared to NIS 2.02 million in Jerusalem, and K'far Saba or NIS 1.25 million in Ashkelon. These, of course, are averages. Certainly, the more desirable neighborhoods in Tel Aviv cost more.
So why the drop? A straightforward reason is that prices in Tel Aviv have just gotten too high. Israelis cannot afford the price of Tel Aviv apartments.
Almost 50% of the apartments in Tel Aviv are rented out. Therefore, when people buy apartments, they often plan to get some return on their investment, by renting those apartments. However, even more so than with purchase prices, rental prices are limited by the income of the average Tel Aviv workers. While people working in high tech (especially the high-level programmers) are doing very well — even on a worldwide scale — the remaining workers in the city do not make enough money to rent apartments at the current prices. As a result, apartment rental rates have stopped rising, and have even dropped slightly.
I recently spoke to the manager of one of the few real estate companies that specializes in rental properties. She told me they used to be able to get a 6% return on their investment. In contrast, today, they receive less than 2%. All of this translates into falling prices. How far they will fall is not clear, but what happens if the world heads into a recession. For those who bought their apartments at the top, a drop in prices is the last thing they want to hear about. However, for the rest of the country, and for all those who do not own apartments, the price of flats cannot fall quickly enough.