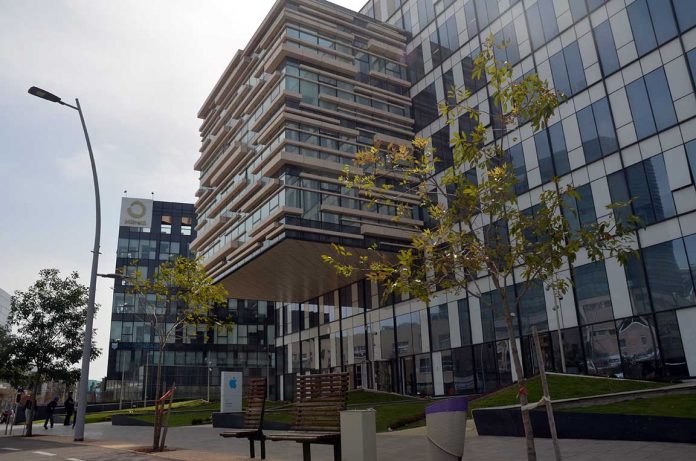 There are many reasons why Prime Minister Benjamin Netanyahu was re-elected, despite all of his legal troubles, and notwithstanding a formidable group of former generals running against him. However, the most significant reason why Netanyahu was re-elected for his fifth consecutive term is simple — Israel's economy is booming. Over the last twenty years, and especially over the past decade, Israel has transformed from a country with a struggling economy, into an economic powerhouse.
In Israel's early years, the country was recognized throughout the world for its outstanding Jaffa Oranges. Today, Israel is known for its high-tech expertise. Foreign investment in Israel has skyrocketed from a few hundred million dollars each year in the early 1990s, to nearly $20 billion in 2018. Israel's GNP has grown from $22 billion in 1980, to $124 billion in 2000, and to over $347 billion in 2018 — with almost all of this expansion fueled by Israel's high-tech boon.
Much of Israel's high-tech advantage can be traced to the military. Starting in the 1980s, Israel began to invest heavily in the advancement of its military technology. While contractors did much of the initial development, essential elements proceeded to be implemented inside the army itself. A generation of programmers and other technologists have gained varied, valuable skills at an early age inside the military. Once these young people re-entered civilian life, they promptly applied those skills to establishing startups.
What has made Israel's high-tech boon succeed and continue to expand? According to Yifat Oron, CEO of LeumiTech (a dedicated subsidiary of Bank Leumi, established to provide a complete banking solution to high-Tech companies):
For many years, Israeli entrepreneurs have proven to know best how to group into multidisciplinary teams, and apply their deep understanding of technology towards the latest growing needs and sectors. Such teams started with military-oriented technologies, moved to telecom and semiconductors, and currently apply themselves into automatous driving, artificial intelligence, and digital health.
Israel's high-tech arena is made up of three clear sub-groups: 1) Famed "startups", i.e., new companies pursuing innovation, generally financed by venture funds; 2) Relatively mature companies that have gone public, either on the NASDAQ, or the Tel Aviv Exchange; and 3) Subsidiaries of multinational corporations with established R&D or other facilities in Israel, (often as the result of an acquisition of one or more Israeli companies). Today, over 350 multinationals maintain R&D facilities in Israel, including: Google, Apple, Microsoft, Amazon, Facebook, and Intel. In contrast to other companies, Intel not only does R&D in Israel, but also produces chips in Kiryat Gat and is, in fact, Israel's leading exporter.
The initial successes of the high-tech sector in Israel spurred the creation of a strong ecosystem, which while unable to guarantee every startup will succeed, does ensure that most have every chance to do so. For many startups, entry into Israel's high-tech ecosystem begins with joining one of the dozens of incubators that exist. Some high-tech hatcheries are partially funded by the government, such as the Terra incubator in Yoqneam; others are bankrolled by local companies such as, El Al's incubator, called "The Cockpit"; still other incubators are run by multinationals, i.e., incubators sponsored by such diverse companies as: Barclays Bank, Samsung, Google, and Microsoft.
These incubators work intensively with startups for six months to a year, providing them with some seed money and almost unlimited advice and mentoring. As Astorre Modena the Managing partner in Terra Venture said: "The incubator model is an amazing tool for us to make many more investments, while reducing our risks."
Of course, not all startups are accepted, nor want to be part of an incubator program. However, whether or not they have been part of an accelerator, most startups need to raise more money. Scores of venture capital firms, many local, but also include many US, German and Chinese companies, provide the next boost for Israeli startups. Israel is a great place for venture firms to work, as Mickey Steiner of Innogy Innovation Hub stated:
As a German corporation we — find in Israel very attractive investment opportunities, based on deep technology and good market understanding. Israel has highly qualified and well-educated talent pool — veterans of the well-known IDF intelligence units (8200), graduates of high-quality universities, experienced entrepreneurs.
Israel has even invented a new type of venture capital, with a crowd-sourced venture fund named, "Our Crowd." It has raised over $1 billion from 30,000 investors, in 183 countries. Our Crowd has invested into 170 companies, so far.
Israel's ecosystem for high-tech funding is so well-developed that there are companies, like Axis Innovation, which represents both overseas investors and large corporations. They sponsors conferences where startups get to pitch their ideas to potential investors. For example, in January Axis conducted a two-day open innovation challenge, together with the India's SOCH ("Think" in Hindi) Hackathon, to find Israeli start-ups that develop solutions to address water purification, water infrastructure, cyber defense, and the agricultural supply train. 32 Israeli companies showcased their ideas, and 48 hours later, partnerships were formed.
As Israeli startups continue to grow, some have gone public (e.g., Check Point and Wix), though many others have been bought by multinational corporations — the most notable acquisition being Intel's 2017 purchase of Mobileye for $15 billion. These numerous purchases have resulted in every major tech company operating significant R&D centers in Israel.
Can the high-tech boom continue? It has become increasingly more challenging for Israeli firms to locate qualified talent. Not only must companies compete with other startups, but they are frequently required to spar with likes of Amazon, Apple, Facebook and Google, who often outbid local firms for talent. Programs exist to train both ultra-Orthodox (limited success) and Arab Israelis (considerably greater success) to work in the high-tech, thereby expanding the pool of qualified local talent.
Israel has had few natural resources, until recently when gas was discovered. Instead, Israel's resource has been the innovative ability of its population. To continue to grow economically, Israel hopes its educational system, combined with the army training, can continue to turn out the innovators of the future. However, if it has any hope of growing further, Israel will have to find ways to train an ever larger pool of talent, so it can remain one of the technological innovation centers of the world. The ecosystem is already in place, Israel just needs a steady pool of new entrepreneurs to imagine the future.